Student Paper Competition Winners
Winners of URSI-JRSM 2019 Student Paper Competition
 A total of 7 students applied for the URSI-JRSM 2019 Student Paper Competition (SPC). The URSI-JRSM 2019 Technical Program Committee (TPC) selected three finalists based on evaluation of the full-length papers submitted by the applicants, as well as their presentations in the Poster Session on September 5, 2019. The SPC finalists made oral presentations at the SPC Special Session on September 6, 2019, which were open to all participants. At the SPC Special Session, members of the URSI-JRSM 2019 TPC judged the presentations and selected the winners of the 1st, 2nd, and 3rd prizes as shown below.
First Prize:
Mr. Yuya Tokunaga (Kanazawa University, Japan)
"Improvement of Radiation and Temperature Tolerance on ASIC Waveform Receiver for Probing Space Plasma Waves"
Second Prize:
Ms. Nur Syafiera Azreen Binti Norodin (Yamaguchi University, Japan)
"Performance Improvement of Resonator-Coupled Type Wireless Power Transfer System using Dual-Spiral Resonator with Angular Misalignment"
Third Prize:
Mr. Takuya Miyashita (Chiba University, Japan)
"ULF Modulation of Energetic Electron Precipitations Observed by VLF/LF Standard Radio Waves"
At the SPC Award Ceremony on September 6, 2019, each of the three winners received prizes (a certificate and prize money).
Congratulations to all the URSI-JRSM 2019 SPC Winners!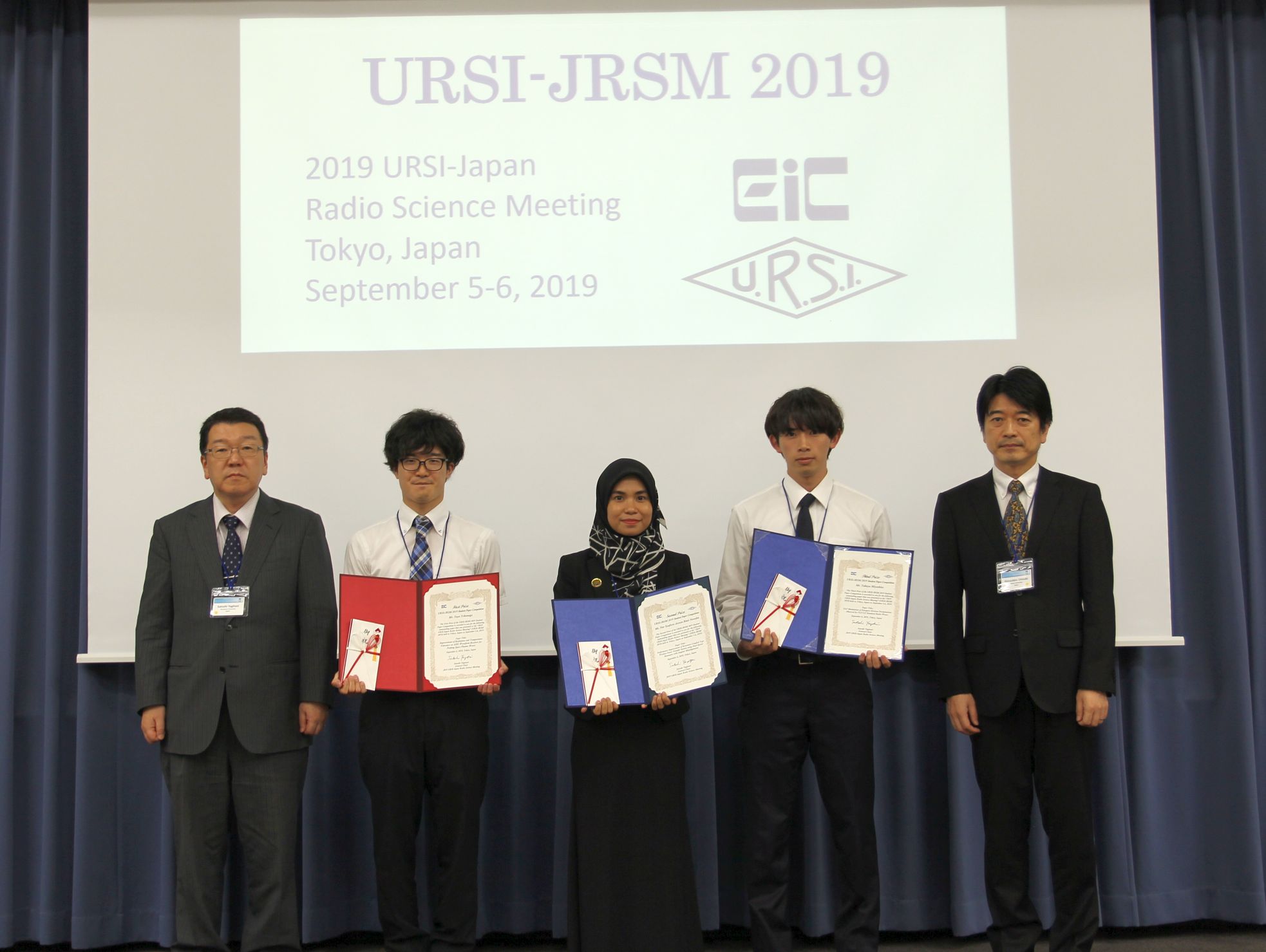 ※Please click on the image to see an enlarged image.
SPC Winners (from left to right: Prof. Satoshi Yagitani, URSI-JRSM 2019 General Chair; Mr. Yuya Tokunaga, SPC First Prize Winner; Ms. Nur Syafiera Azreen Binti Norodin, SPC Second Prize Winner; Mr. Takuya Miyashita, SPC Third Prize Winner; Prof. Shinichiro Ohnuki, URSI-JRSM 2019 Technical Program Committee Chair)